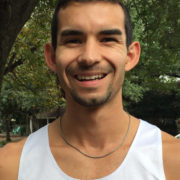 Pinales ran at the University of Texas at Austin where he specialized in the 10K. Upon graduating he was able to continue running professionally. Unfortunately, after qualifying for the 2016 Olympic Marathon Trials fresh out of college, unforeseen circumstances did not allow him to compete in the Trials that following February. Now working in business and finance, Mark been blessed with the opportunity to work towards his goals and dreams both career-wise and in the elite-running scene. Mark is extremely excited to make his marathon debut in his home city, Austin!
Race day tip: "Good self talk. Tell yourself out loud that it will hurt, that it will be tough, and that it will push you. Most importantly, tell yourself that you can do this and that you are good enough. Something I say to myself throughout the race to calm my mind is, 'Relax, stay focused, and keep pushing.'"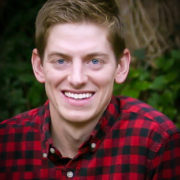 Carson first started running at the age of 14 as a freshman in high school. The goal was to simply stay in shape during the fall before soccer season rolled around. It didn't take long before he ditched the soccer cleats for running shoes. The competitive aspect of it was fun, but he realized that if he wanted to get better, it was up to him to do so. He is originally from Atlanta, Georgia, and now resides in Portland with his wife, Megan, and son, Brady. Carson works as a run specialty sales rep for ASICS.
Quote: "It's been four years since my last marathon (Austin). That race was a humbling experience and did not end the way I wanted. This year is all about finishing strong, having a good experience, and mixing it up with some of my good friends. It should be a fun day!"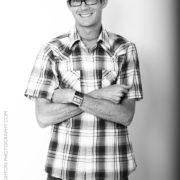 Thorne was born and raised in Atlanta, Georgia. In the early 2000s he moved to Austin – attending school at UT and running for the Longhorns. After graduation he continued to run for a year, then turned to triathlons for a new challenge. After years of triathlon training and racing, the time was right to return to running, as he and his wife started their family. Thorne currently lives with his wife and two young children in the central coast of California.
Training tip: "Listen to your body throughout training. If you need to back off or take a day off – listen to your body and adjust accordingly."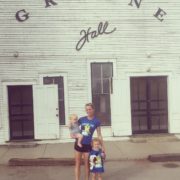 Desiree has lived in Austin since 2004 but grew up in Potomac, Maryland. She attended the University of Alabama on a track and field scholarship and then went on to teach for two years. Desiree became a professional triathlete/duathlete in 2002 and spent 12 years racing as a professional triathlete and runner. She married husband Matt Berry in 2012 and now have two awesome and high energy kids, Beau (3 years) and Bear (1 year). They spend a lot of time with mom in the double Bob around Town Lake and on the streets of Austin. Desiree trains with Gilbert's Gazelles, who she started training with back in 2005.
Quote: " I love the city of Austin and running through it's streets!"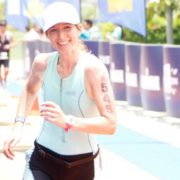 PR Marathon (2:53)
Half Marathon (1:23)
Kari Elliott has been competing for the last 15 years. She is a graduate of Belhaven University in Jackson, Mississippi, where she ran for the cross country team. She has since competed internationally as an elite marathon runner. Some career highlights: 3rd place Bali International Marathon; 3rd place open female in the Putrajaya Malaysia Half-Ironman 2014; 1st place Mississippi Blues Marathon 2015; 1st place Woody's RV Marathon 2016; 1st place Okanagan Marathon 2016 (2:52). She is currently coaching the Red Deer College cross country/indoor track team where the women's team just finished 2nd in Canada in the CCAA.
Race day tip: "Wear clothes you have trained in. Never try something new on race day."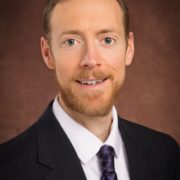 Matt McCurdy is a radiation oncologist and integrative oncologist, incorporating the whole person – mind, body and spirit – as part of cancer care. Physical activity is a major component of integrative medicine, and he practices what he preaches by competing in marathons at the elite level. McCuryy previously focused on triathlons, but switched to marathon training later in his career after the arrival of his first child. At 39, his goals are to stay fit, injury-free, and, most of all, be in the present moment enjoying the training and racing.
Training tip: "Consider doing a taper that includes ~10-25% of the mileage near marathon goal pace for the two weeks before race day."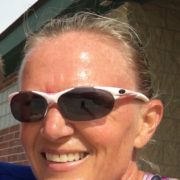 Mays-Sulewski has been a competitive runner for 36 years. She is a three-time NCAA Div II national champ, 2004 Olympic Marathon Trials qualifier, 2006 Indianapolis Mini Marathon champ, 2014 Carmel Marathon champ. She has been married for 13 years and is the mother of two boys, aged 11 and nine.
Quote: "I have a huge passion for running. It is a blessing to have the ability to compete. I have never run a marathon in the state of Texas nor have I been to Austin. I look forward to race day."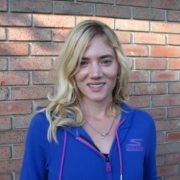 Lauren is a Skechers Performance athlete and works as a fitness coordinator at Angleton Parks & Recreation. She has completed one marathon at the 2016 Olympic Marathon Trials and looks forward to running her second marathon in Austin this February. She hopes to finish strong and not hit the wall this time around. Lauren is fresh off a victory at the 2017 3M Half Marathon (1:17:07).
Training Tip: "Get dressed and get out the door; that's the toughest part of training."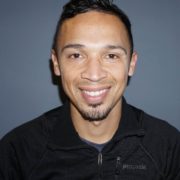 I am recently relocated to the Bay Area, but have been an Austin resident for five years. My marathon debut time was 2:30:25 as a 23-year-old at the 2010 CIM Marathon. Professionally, I  have worked in the running industry for more than five years with Trigger Point. My goal at the Austin Marathon will be a top 5 finish, breaking 2:20. Also, I plan to race 50K and 50 milers in 2017 on the trail scene in the Bay Area.
Race day tip: "Be DILIGENT about checking the weather report before a marathon! Unlike any other road distance, the weather will totally affect the race and sustainability of effort. Be smart!"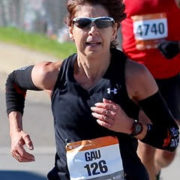 PR Marathon (3:04:08)
Half Marathon (1:26:32)
Wanda Gau is a 54-year-old wife, mother of three, grandmother of two, and a first grade teacher. Gau's running career began when she turned 40 and joined a local health club. She has run 28 marathons since her first in 2005 and has been fortunate to place in the top three in her age group or overall in many. In October, Gau ran the Twin Cities Marathon as an elite master and placed second.
Training tip: "Strength training is important along with running. I make sure to do 60-70 sets (15 reps) of weights for the whole body and core exercises each week during training."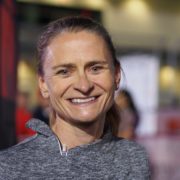 Kimbrough is a 47-year-old mother of six and a licensed massage therapist. Running is her passion and she has competed on the Masters' National level for the past seven years. Kimbrough ran a personal best in the marathon at the 2008 Olympic Trials (2:42). Since then, she has been racing shorter distances with Masters' titles in the 8K, 10K, and Club XC. She also broke the Beer Mile world record in 2014.
Quote: "I'm excited about racing the Austin Marathon. It will be my first marathon since competing in the '08 Olympic Trials."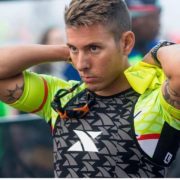 Chase's goal is to be a World Championship contender for both 70.3 and full 140.6 Triathlon distances. This process requires the most drive and focus he's ever given anything in life, however he got a late start. The Austin Marathon will be his first, rested full marathon he has ever raced and he's excited to see how far he can push the envelope.
Quote: "Get comfortable being uncomfortable."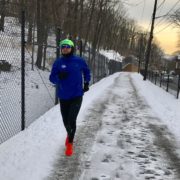 Vanegas currently lives in Fort Lee NJ and has been there for 22 years. He's originally from Cuenca, Ecuador. I have been running since I was a young and haven't stopped since. I've run more than 30 marathons (domestic and international marathons!!). I get inspired by others and their culture. My biggest inspiration is my older brother, Esteban Vanegas, who is also an elite master runner.
Quote: "Loyal to the road."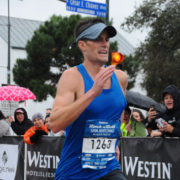 PR Marathon (2:36:41)
Half Marathon (1:17)
Harris is the Executive Director of City Education Partners (CEP) in San Antonio, TX. He has worked as a management consultant for large urban districts and he is also the founding principal of KIPP University Prep High School in San Antonio. He has been awarded a Fulbright Scholarship, Rotary Ambassadorial Scholarship, and New Teacher of the Year Award and holds a B.A. from Rhodes College and an M.A. in Curriculum and Instruction from the University of Mississippi. Joel and his wife Cayce have three children in public school, a toddler, and a baby on the way. Joel runs road races in his spare time. 2016 San Antonio Rock 'n' Roll Marathon (2:36:41).
Race day tip: "Be free and have fun."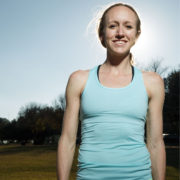 Macsas has been a mileage junkie since the age of 15, when she was convinced to (reluctantly) join her high school cross country team. That decision has led to a life built around running: a successful collegiate career at the University of Tampa, 2012 and 2016 Olympic Marathon Trials qualifiers, a Leadville 100 finish, and a coaching position with Rogue Running here in Austin. In 2012 I co-founded Rogue Expeditions, an adventure travel company for runners.
Quote: "After serving as the 3:15 pacer for the Austin Marathon for four years, I'm very excited to race it for the first time. Though it's definitely a tough course, I'm a strong hill runner, know the route extremely well, and have had nothing but awesome experiences with hometown races – there is no other energy quite like it!""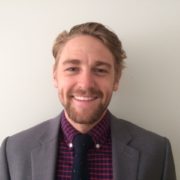 Bishop began running marathons in 2009 after finishing high school. He has since completed 17 events. He sees each race as an opportunity to better himself and strive to stay true to that purpose. He has been fortunate to have achieved podium finishes and many top ten finishes, which continue to drive him further. He recently completed a BS in Exercise and Sport Science from the University of Utah and is currently applying to medical school. 
Training tip: "I have been doing a lot of higher volume workouts that are preparing me for the marathon. I think one of the best things that I've done have been long workouts with pace changes. For instance, 16K with altering paces for every 4K (3K hard, 1K moderate)."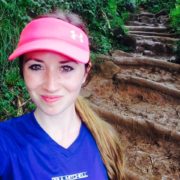 Veltri, a graduate of Cornell University, now calls New York City home She works as an attorney and runs competitively for Central Park Track Club – New Balance. She trains for a multitude of races and is not afraid to stray off the roads or run farther than 26.2 miles. In November 2016 she won first place female in the Raleigh City of Oaks Marathon. In December 2016 she won second place female in the Xterra Trail Race World Championships 21k in Hawaii.
Quote: "Running happy and living the dream."