While they may not all be spooky, these running costumes are great for a themed group run or even going door or door. So tie up the running shoes and get in the spirit of the holiday.
Why it's a good running costume
In 1967, she became the first woman to run the Boston Marathon as a numbered entrant. During her run, race official Jock Semple attempted to stop Switzer and grab her official bib; however, he was shoved to the ground by Switzer's boyfriend, Thomas Miller, who was running with her, and she completed the race. It was not until 1972 that women were allowed to run the Boston Marathon officially
What to Wear
A set of grey sweats and plain white number 261. Bonus, make it a group costume and get someone to dress up as race director Jock Semple and Thomas Miller.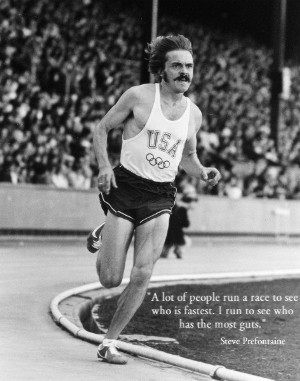 Why it's a good running costume
Prefontaine's was a long distance runner who competed in the 1972 Olympics. His career, alongside those of Jim Ryun, Frank Shorter, and Bill Rodgers, generated considerable media coverage, which helped inspire the 1970s "running boom." He was known for his mustache and his long locks of hair that parted as he ran.
What to Wear
Large fake mustache, sideburns, a white USA tank, and short short track shorts.
Tortoise and the Hare

Why it's a good running costume
It's a classic racing story that everyone knows. Plus it's a fun couples costume. The question is, who gets to be the Tortoise and win?
What to Wear
Hare- a tan or brown tracksuit or shirt and leggings, Rabbit ears, and get ready to sprint everywhere you go.
Tortoise- Green shirt and leggings. Cover a stuffed backpack in a darker green cloth for your shell. Walk everywhere really slowly.
Refrigerator
Why it's a good running costume
Is your refrigerator running? Better go catch it! Turn this old prank call into a fun costume. Plus you can see if anyone gets the joke.
What to Wear
White cardboard box with arm and head holes. Draw handles and doors on the front. Add fun items like magnet letters and family photos. Pair with running shorts and shoes.
Port – 0 – Potty
Why it's a good running costume
A staple part of every long-distance runner's life. They can be your lifesaver or your worst nightmare.
What to Wear
Cardboard box with an extra piece to make the roof. Pant the box blue to look like a port-o-potty. Carry around extra toilet paper.
https://secureservercdn.net/198.71.233.96/zmm.b91.myftpupload.com/wp-content/uploads/2018/10/Halloween-Costume-Ideas-feautre.png?time=1606947612
400
495
tteichh5e
https://secureservercdn.net/198.71.233.96/zmm.b91.myftpupload.com/wp-content/uploads/2018/11/RBG-color-website-header-340x156website.png
tteichh5e
2018-10-25 11:06:28
2018-10-25 15:28:52
Running Halloween Ideas